Today's Grand River Railway was originally the north end of the former B&O Lake Branch from Youngstown, Ohio to Fairport Harbor. All of the line north of Warren, Ohio, except the northernmost 2.56 miles between Painesville and Fairport, was abandoned and removed by CSX in the early 1980's. This northernmost 2.56 miles was then acquired and operated by CONRAIL. CONRAIL conveyed the line to CSX on June 1, 1999 as part of the CSX/NS split of CONRAIL. CSX operated the last train on the line in 2002 then subsequently filed to abandon the line, which was ultimately completed soon thereafter.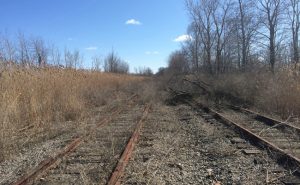 Between 2002 and 2015, when the GRRY started operations, no rail service was operated on this line.
Concurrently with the abandonment proceedings, the Ohio Rail Development Commission (ORDC) began working in 2003 with The Ohio Central Railroad System (OCRS) and on-line shippers to preserve the line in-place through a lease arrangement voluntarily agreed to by CSX.
Ultimately the line was leased from CSX by the shippers, OCRS and ORDC in order to keep the line intact.
The rebirth of this line began in 2010. It focused on restoring railroad service to the Grand River Line for all existing on-line industries as well as the development of new customers on vacant land adjacent to the railroad.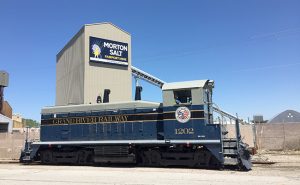 However, for the near term the project scope has narrowed to a focus on restoration of service only to Morton Salt's Fairport Facility located at the line's north end.
The original intent was to lease the line from CSX and interchange traffic with the CSX Water Level Route at Painesville, Ohio. CSX had stipulated that operation of the line by independent short line was to be through a lease of the line from CSX. This continued to be the CSX requirement through May of 2014, when CSX abruptly changed their mind! In May 2014 CSX informed the newly-formed GRRY that they must purchase the railroad instead of just leasing the line! CSX said they would not operate the railroad or retain ownership of the line via a lease arrangement due to excessive liability exposure.
If the railroad was owned by an independent short line, CSX said would gladly serve as the connecting carrier to handle the line haul move of traffic to/from the short line. The GRRY was able to secure financing and ultimately purchased the line from CSX in early 2015.
As a result, the Grand River Line has been transformed into an active, revenue-producing railroad, in stark contrast to its twelve years of abandonment and total dormancy.